I had some leftover alfredo sauce in the fridge, and decided to make something simple for dinner.  I remembered that I had shared a recipe by Gimme Some Oven on Facebook a few weeks back, and it became my inspiration for dinner tonight.  Yummy and light yet very easy to make, this comfort dish is perfect for lazy weekends like today.
I used store-bought alfredo sauce to cut down prep time, but I might try making it from scratch next time.
Baked Chicken Alfredo Pasta
Ingredients
2 tablespoons olive oil
2 small boneless, skinless chicken breasts
Salt and pepper
12 ounces fusilli (or any short pasta you prefer)
1 565-gram (20 oz.) jar alfredo sauce, or make your own, recipe follows
1 1/2 cups shredded mozzarella
1/4 cup grated parmesan, plus more for serving
2 tablespoons chopped cilantro (optional)
Directions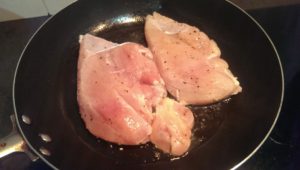 Preheat oven to 190 degrees C.
Season the chicken breasts with salt and pepper.  In a frying pan, heat the olive oil over medium heat.  Add the chicken breasts to the pan and fry undisturbed until brown on both sides, about 6-8 minutes per side.  Drain on paper towels, and shred to bite-sized pieces.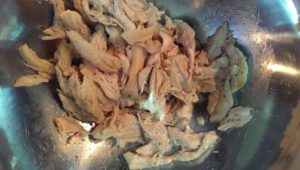 In a large stockpot, bring 3.5 litres of water to a rolling boil.  Add 1 tablespoon of salt, and let the water return to a boil. Cook the pasta al dente according to package instructions, stirring occasionally to make sure the pasta does not stick to each other. Drain.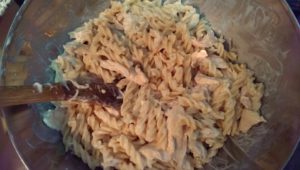 In a large mixing bowl, add the cooked pasta, shredded chicken and alfredo sauce. Gently toss to combine until the pasta is evenly coated.
Pour half of the pasta into a greased 9 x 13-inch baking dish. Sprinkle evenly with 1 cup of mozzarella. Layer the remaining half of the pasta evenly on top. Sprinkle evenly with the remaining 1/2 cup of mozzarella.
Bake for 20-25 minutes until the cheese is melted and just barely starts to turn golden. Remove and serve immediately, sprinkled with grated parmesan and chopped cilantro leaves.  Serve with the extra grated parmesan.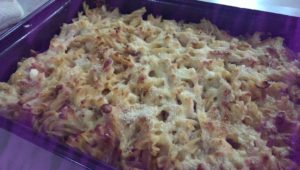 Alfredo sauce
1 tablespoon olive oil
4 cloves garlic, minced
3 tablespoons flour
1/2 chicken stock cube, diluted in 1 cup water
1 cup full cream milk
3/4 cup grated Parmesan cheese
1/2 teaspoon salt
1/4 teaspoon black pepper
In a large saute pan, heat the olive oil  over medium-high heat.   Add garlic and cook, stirring occasionally, until fragrant, about 1 minute.   Sprinkle with flour and cook, stirring occasionally, for another 1 minute.
Slowly add the chicken stock, whisking to combine until smooth. Whisk in the milk, and bring the mixture to a boil.  Reduce the heat to low and simmer until thickened, 1 minute.  Add the Parmesan cheese, salt and pepper, and stir until the cheese melted. Remove from heat and set aside until ready to use.