Kak'mbang has been yelling at me for leaving the lamb shoulder chops I bought some time ago to just sit in the freezer for ages.  With my crazy work schedule, I honestly have no energy to make anything involving too much work.  I found this recipe on allrecipes.com which got pretty good ratings, and modified it for the pressure cooker using "permissible" ingredients (heh).
By using the pressure cooker the lamb was falling-off-the-bone tender in just one hour.  Flavor-wise Rudy preferred this to the stew, but Kak'mbang liked the stew better.  Looks like I'll have to make both again from time to time.
Pressure Cooker Braised Lamb Shoulder Chops
Ingredient
2 tablespoons olive oil
4 pieces lamb shoulder chops, about 1 kilogram
1 1/2 teaspoons salt
1 teaspoon ground black pepper
1 small yellow onion, sliced
4 cloves garlic, minced
2 tablespoons (about 20 grams) chopped fresh rosemary
1/2 beef stock cube, diluted in 1 cup hot water
1 cup red grape juice
2 tablespoons cornstarch
1/2 cup water
1 tablespoon Worcestershire sauce
Directions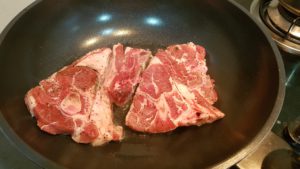 Heat olive oil in a skillet over medium-high heat.  Season lamb chops with salt and pepper.  Sear the lamb in hot oil until browned, 1 to 2 minutes per side.  Remove the chops to a plate to drain, reserving drippings in the skillet.
Saute the onion and garlic in reserved drippings until tender, about 5 minutes.
Transfer the drained lamb chops to the pressure cooker pot, and add the onion mixture.  Sprinkle the rosemary over the chops.  Pour the beef broth and red grape juice into the pot.  Wipe the bottom of the pot before placing it in the electric pressure cooker, and cook using the Beef/Mutton setting, 59 minutes.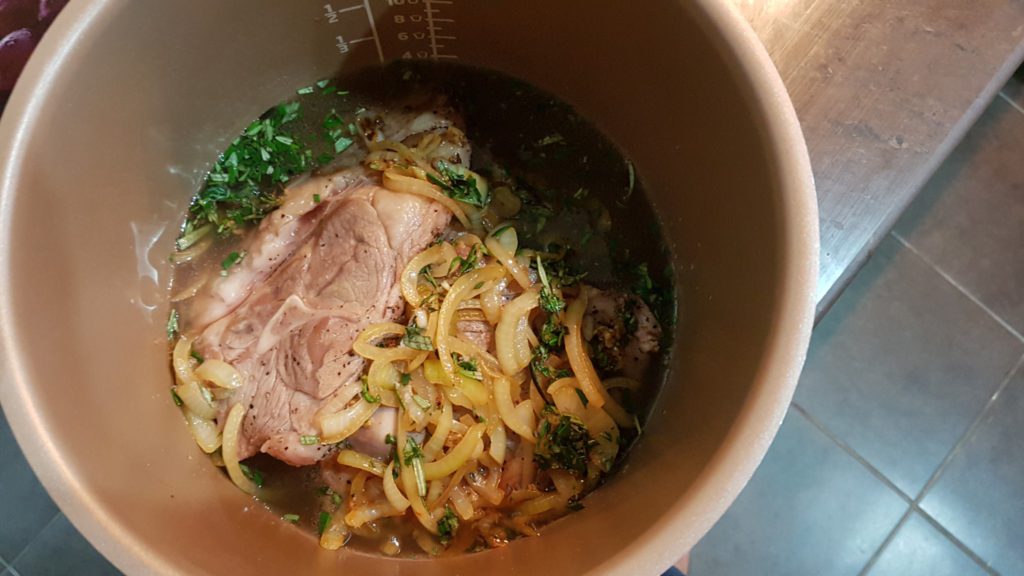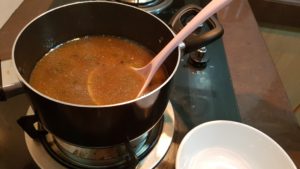 Remove the lamb to a serving platter.  Carefully drain the liquid from the pressure cooker pot into a saucepan, and place over medium heat.  In a bowl, whisk the cornstarch and water until lumps remain.  Stir the cornstarch mixture into the liquid in the saucepan.  Add the Worcestershire sauce and cook, until the liquid thickens into a gravy, about 5 minutes.
Ladle a few scoops of gravy over the lamb, and serve with slices of crusty white bread.