During my last trip to the wet market, I bought some beef with the intention of making pot roast for the Round Knights.  Weeks passed, and for some reason or the other I just never got around to do it.  This is becoming a bit of an annoying habit for me now… Anyway, of course the time came for Kak'mbang to start nagging about the amount of space the beef is taking up.  So I decided to get rid of it by using it in another one-pot meal, again using my electric pressure cooker.  I made this stew based on a recipe from Once Upon a Chef.  While I wasn't wowed the first time tasting it as soon as it was cooked, the flavors really really do develop over time, and in fact this stew was at its best a few days after.  Perfect for busy people who prefer to make their weeknight meals ahead of time.
I served this stew with bread, but this can also be served with buttered pasta if you like.  Enjoy!
Pressure Cooker Beef Stew with Carrots and Potatoes
Ingredients
1.5 kilograms

boneless beef chuck (well-marbled), cut into 1-1/2-inch chunks

1 1/2 teaspoons

salt

1 teaspoon

freshly ground black pepper

3 tablespoons

olive oil

2

medium yellow onions, cut into 1-inch chunks

7

cloves garlic, peeled and crushed

2 tablespoons

 apple cider vinegar, mixed with 1 teaspoon brown sugar 


1-1/2 tablespoons

tomato paste

1/4 cup

all-purpose flour

2 cups

 

red grape juice

1 beef stock cube, diluted in 2 cups

hot water

 

2 cups

water

1

bay leaf

1/2 teaspoon

dried thyme

1 teaspoon

 

sugar

2 medium

 carrots, peeled and cut into one-inch chunks on a diagonal

500 grams

 chat potatoes

, cut in half

200 grams button mushrooms, sliced

Fresh chopped celery leaves, for garnish (optional)
Direction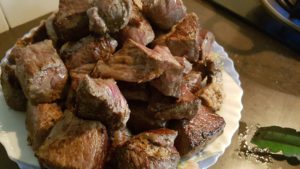 Pat the beef dry using paper towels, and season with salt and pepper.  In a large Dutch oven or heavy pot, heat 1 tablespoon olive oil over medium-high heat until hot and shimmering.  Brown the meat in a few batches, turning with tongs, 5 to 8 minutes per batch, adding another tablespoon of oil for each batch.  For best results, wait for the pot and oil to heat up enough before adding the meat, and avoid overcrowding the pot.  Make sure the meat develops a nice brown crust before turning. Transfer meat to a large plate and set aside.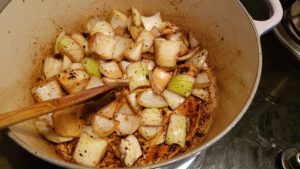 Add the onions, garlic and apple cider vinegar mixture and cook, stirring with a wooden spoon to scrape brown bits from bottom of pot, about 5 minutes.  Add the tomato paste and cook a few minutes more.  Add the beef with the juices back to pan, and sprinkle with flour.   Stir with wooden spoon until flour is dissolved, 1-2 minutes.  Add the juice, beef stock and water, ensuring the liquid ingredients are just enough to cover the meat.  Add the bay leaf, thyme, and sugar.  Stir with wooden spoon to loosen any brown bits from the bottom of pan, and bring to a boil.  Transfer to the pressure cooker pot, place the pot in the pressure cooker and cook using the Beef/Mutton setting, 40 minutes.
When the timer is up, release the pressure and remove the pressure cooker lid.  Add the carrots, potatoes and mushrooms.  Cover and cook using the "Stew" setting, 5 minutes.   Taste and adjust seasoning, adding more freshly ground black pepper or sugar if necessary.  Let cool, then store in refrigerator overnight or until ready to serve.
This stew improves in flavor if made at least 1 day ahead. Reheat, covered over medium heat, or in the oven at 180 degrees C.  Garnish with fresh celery leaves if desired.