When making my Pull-apart Stuffing Rolls, I originally just wanted to use ready-made pizza dough, and bought some from the store.  I thought nothing of it, but when I finally took the dough out from the fridge, to my horror the stuff I bought turned out to be pre-baked pizza crust, and was therefore unusable.  Trying to find other store-bought options led to more disappointment, and finally I caved in and decided to make my own pizza dough.  This small crisis disrupted my cooking schedule a bit for that day, but luckily I discovered this problem in the morning, and so had enough time to still make things happen.
I've used this recipe for all my home-made pizzas, based on the recipe from the book, 500 Pizzas & Flatbreads.  This makes about 450 grams/1 pound of dough, enough for two 9-inch round pizzas, or one 11 by 15-inch rectangle pizza.
Basic Pan Pizza Base
125 grams bread flour
160 grams plain flour
3/4 cup warm water
1 teaspoon instant yeast
1/2 honey
1 1/2 teaspoons olive oil
3/4 teaspoon salt
In a large mixing bowl, add the bread flour and the plain flour and whisk to combine.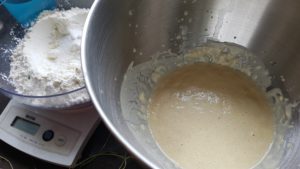 In a bowl of a standing mixer, add the warm water, yeast, honey, and olive oil.  Add 5 tablespoons of the flour mixture and mix on low speed or whisk by hand until smooth.  Cover the bowl with a kitchen towel and let stand until mixture is foamy on top, 20 minutes.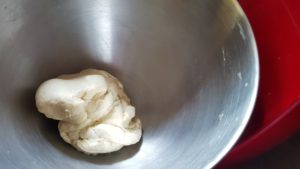 Add the remaining flour and salt, and mix using the dough hook for 4 minutes, or knead by hand for 10 minutes, until all the flour is incorporated and the dough is smooth.  Cover the bowl with a kitchen towel and place in a warm spot to rise for 1 hour 30 minutes, or until the dough as almost doubled in volume.
Use the dough as required by your recipes.  Alternatively you can refrigerate the dough overnight, and bring it out to room temperature 1 hour before using.