Ever since Ramadan started, I've been taking my quick breaks walking through the aisles of Ben's Independent Grocer (B.I.G.) almost every working day.  Sometimes (very rarely) I leave empty handed, but most of the time I would buy some fruit at half price or bread or some ingredient I could use to make something small for buka puasa.  So this time I bought a bag of panko breadcrumbs, and made another recipe from Chef Kamarul's book.
These croquettes were lovely, and reminded me so much of the snack I love back in Japan.  I noticed that mixing the ingredients using the potato masher wasn't so effective for me, so next time I'll switch to a spatula or wooden spoon instead.  I'll also stuff them with cheese or meat to make them more hearty.
Mashed Potato Croquettes
Ingredients
500 grams potatoes, peeled
Butter
1/2 teaspoon salt
1/2 teaspoon ground white pepper
1/2 cup flour
2 eggs
1/2 cup breadcrumbs
Oil for frying
Directions
In a medium pot, add the potatoes and add enough water to cover.  Over high heat, bring to water to a boil and cook, until potatoes are tender and can easily be pierced with a fork, about 20 minutes.
In a large mixing bowl, add the cooked potatoes and butter.  Mash using a potato masher or a fork, until smooth.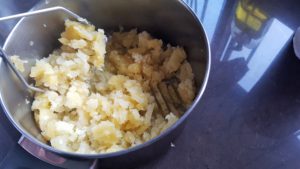 Add the salt and pepper, and stir thorougly to combine.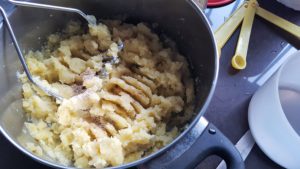 Working with a spoonful at a time, shape the potato mixture into small cylinders.  Dip into the flour and coat evenly.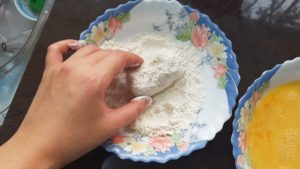 Then, dip into the beaten egg and coat evenly.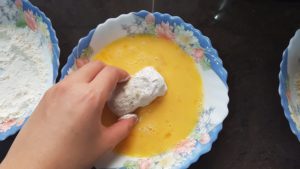 Then drop it into the breadcrumbs and coat evenly.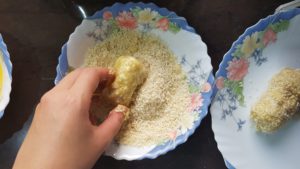 In a skillet over medium high heat, heat about 1 inch of oil.    Fry the croquettes until golden.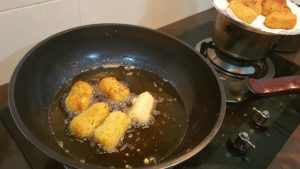 Serve warm, with your favourite chili sauce, katsu sauce, or Worcestershire sauce.