I saw this recipe on Facebook some time back.  Apparently it was something that was going viral here in Malaysia.  Looking through the ingredients it did seem quite yummy, so I started writing this post, with some small adjustments and notes.
It took me two tries to get this right, using my trusty old Kenwood BM250 breadmaker.  One of the recipes I found online asked for a lot of yeast (3 tablespoons!), and even though I cut it down to 2 packages (slightly over 2 tablespoons), the dough doubled up really fast and practically exploded in my breadmaker by the end of the dough cycle.  The given oven temperature was also way too hot, and my first batch turned out too brown and really crusty.  Even after adjusting the temperature down by 20 degrees, the second batch still turned out quite brown.  I think because there was too much yeast and I left the dough to rise for too long, the yeast consumed all the sugar and the rolls turned out rather tasteless, and not to mention smelled really yeasty.  Even though they softened a bit after they were completely cool, the texture was really dry and rough.  So, in short, my first try was a bust.
For my second attempt, I halved the amount of yeast, and added some salt in hopes that the rolls retain their moisture better and stay soft.  I also reduced the oven temperature to 150 degrees and baked for only 20 minutes.  The results were wonderful! The bread was beautifully soft and moist, and the flavor was just nice.  Success!
Roti Golok
Makes about 17 to 18 rolls
Ingredients
1 cup warm water
2 tablespoons sweetened condensed milk or creamer
1/4 (heaping) cup sugar
1 (11-gram) package instant yeast
4 cups bread flour
2 tablespoons unsalted butter, melted, plus more, softened, for brushing
1 tablespoon powdered milk or non-dairy creamer
1 teaspoon dough softener
1 teaspoon salt
1 egg
Caster sugar for dusting
Directions
In a large mixing bowl or your bread maker pan, add the warm water.  Add the yeast…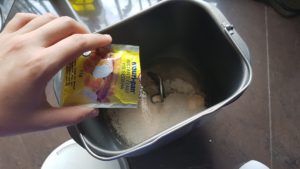 … the sugar…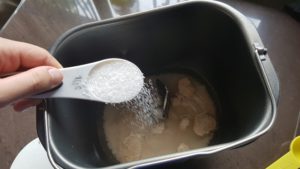 …and the sweetened condensed milk, and stir to combine.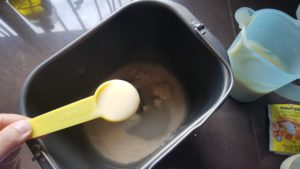 Cover and let sit in a warm place, until foamy, about 20 minutes.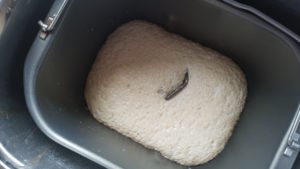 Add the bread flour…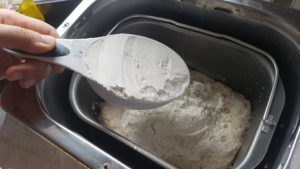 …powdered milk or non-dairy creamer…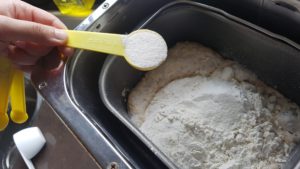 …the dough softener…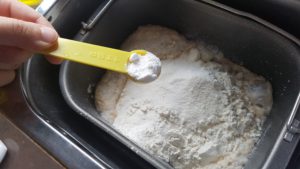 …some salt…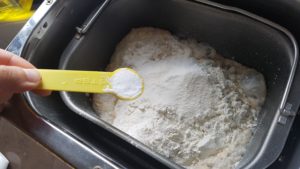 …an egg…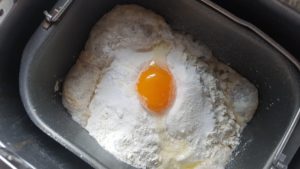 …and the melted butter.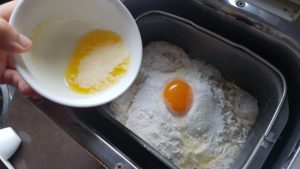 Mix using the dough hook attachment of your electric mixer for 5 minutes, or by hand for 10 minutes, until the dough is smooth and elastic.  If using a bread maker, start the Dough cycle.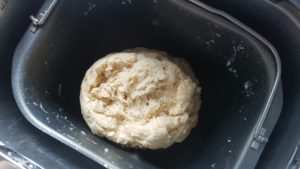 Cover the bowl with cling wrap and let the dough rise in a warm place, until doubled in size, about 1 hour.  If using a bread maker, wait for the Dough cycle to finish.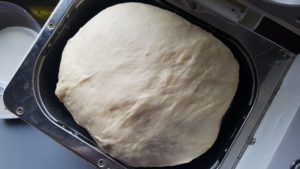 Gently punch down the dough to let the air out.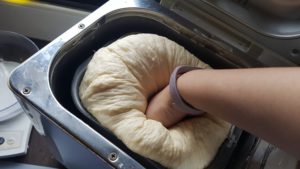 Using a weighing scale for accuracy, divide the dough into pieces, about 20 grams each.  To save time, you could also weigh 60-gram pieces, and split each piece into three roughly equal sized pieces.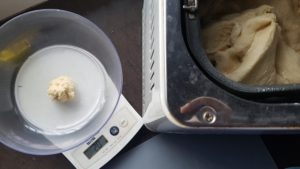 On a lightly dusted surface, working with three pieces of dough at a time, roll each piece of dough into thin ropes, about 5 inches each.  Arrange the dough ropes side by side.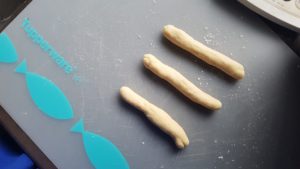 Starting from the middle, twist into a braid.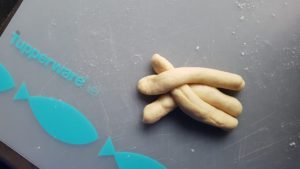 Pinch and tuck in the end.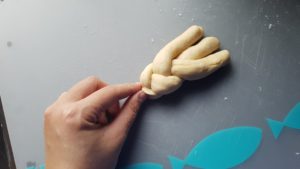 Flip to the other side and finish braiding the remaining half.  Pinch and tuck in the end.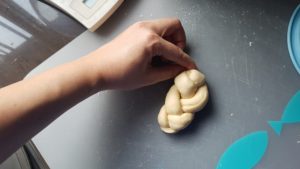 Arrange the braided rolls in a greased baking tray, leaving ample space in between to allow for further rising.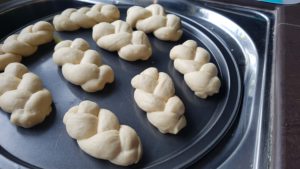 Cover and let rise in a warm place, until doubled in size, another hour or so.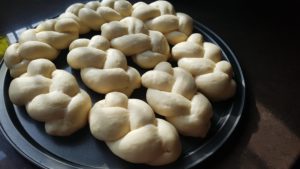 Preheat oven to 150 degrees C (I used standard, not fan-forced).  Bake in the oven until golden brown, 20 minutes.  Let cool completely.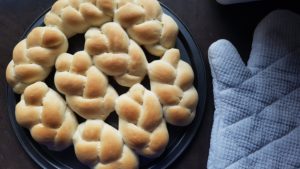 Brush with the softened butter.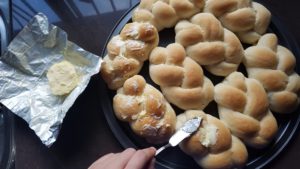 Sprinkle with caster sugar.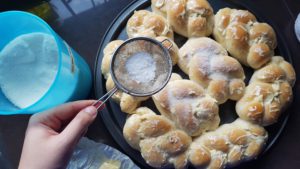 Enjoy!