I made this spice mix thinking that this was the besbasa Eman was referring to for her meghazlia spice mix recipe.  It turned out that this actually wasn't what she meant, but in any case I'll try to figure out what other things I can use this for.
Based on the recipe by Sheba Yemeni Food.
Dried Bisbas Spice Mix
Ingredients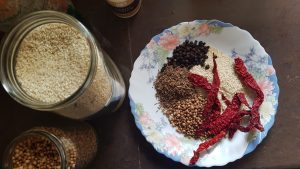 2 tablespoons sesame seeds
1 tablespoon cumin seeds
1 tablespoon coriander seeds
1 1/2 teaspoons black peppercorns
6 to 8 dried red chillies, to taste
2 1/2 teaspoon salt
2 1/2 teaspoons ground turmeric
1/2 teaspoon garlic powder
Directions
In your spice grinder, add the sesame seeds, cumin, coriander, black peppercorns and dried chillies.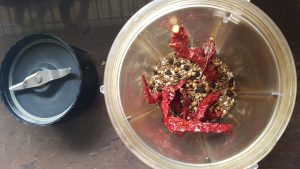 Grind for a few minutes until fine and smooth.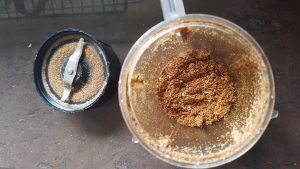 Add the salt…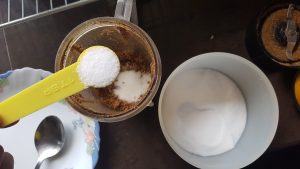 …turmeric…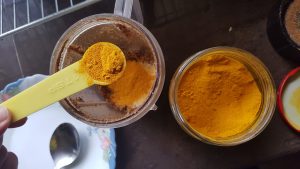 …and garlic powder.  Mix until thoroughly combined.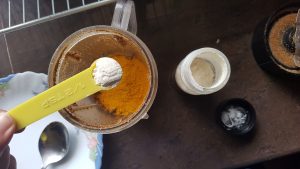 If the spice mix is a bit lumpy, spread it evenly on your toaster oven tray.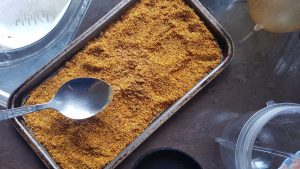 Toast the spices for about 3 minutes, and let cool completely.  Alternatively you can toast it in a skillet over medium high heat.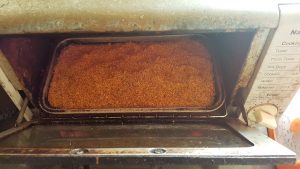 Transfer to an airtight container.  Store in cool dry place (I put mine in the freezer) when not in use.