One day Khairil sent me a link on Facebook messenger to this really yummy looking recipe by Spicy Southern Kitchen.  It looked simple enough, and I just received a bag of shredded Cheddar from Merv, so I thought it'd be nice to make this over the weekend and invite Adik over for brunch.  So yesterday after work I decided to stop by B.I.G. to grab whatever additional ingredients needed, and even found jalapenos – that place is so awesome!  In the end I found out that Adik was going away with Mom and Ayin and family to KK for the weekend, but I decided to go ahead and make this anyway.
Making the biscuits from scratch really cut down the cost a lot; store-bought frozen biscuits here cost upwards of 20 ringgit per bag.  This lovely casserole makes a really hearty brunch, and also great for potlucks and gatherings.  Give it a try!
Breakfast Mac and Cheese
Ingredients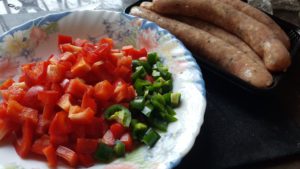 500 grams elbow macaroni
1 tablespoon cooking oil
500 grams country chicken (breakfast) sausage, removed from casings and crumbled
1 large onion, diced
1 red bell pepper, diced
1 green chili OR jalapeno pepper, discard seeds and dice
3/4 teaspoon salt
1/4 teaspoon garlic powder
4 tablespoons butter
6 tablespoons flour
4 cups full cream milk
2 cups shredded colby jack cheese
2 cups jalapeno jack cheese
2 cups sharp cheddar cheese
salt and pepper to taste
4 eggs
5 or 6 toasted breakfast biscuits, home-made or store-bought, crumbled
Directions
Preheat oven to 190 degrees C (fan 170 degrees C).
Bring a large pot of water to a rolling boil.  Add 1 tablespoon salt, and return to boil.  Add the pasta to the pot and cook until al dente, according to package instructions.  Drain the pasta in a colander and set aside.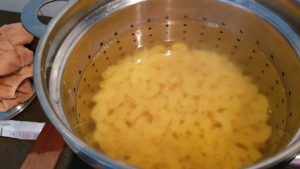 Heat the cooking oil in a large dutch oven over medium high heat, add the sausage and cook, crumbling it with a wooden spoon while stirring.  Once no longer pink, remove it to a bowl with a slotted spoon and set aside.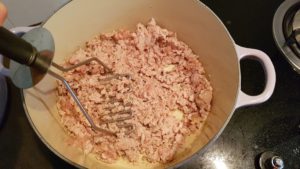 Heat 1 tablespoon of olive oil in the same pot.  Add the onion, red pepper, and jalapeno to the pan in the and cook, stirring, until softened, 4 to 5 minutes.  Spoon the onion mixture into the bowl containing the sausage.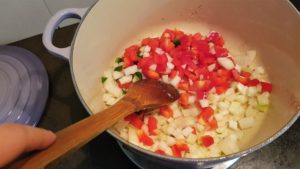 Melt the butter in the pan over medium heat.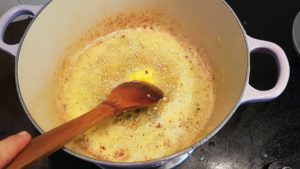 Whisk in the flour and cook, stirring constantly, 2 minutes.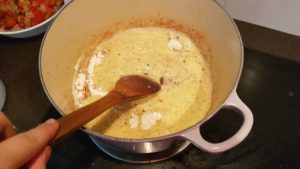 Gradually whisk in the milk.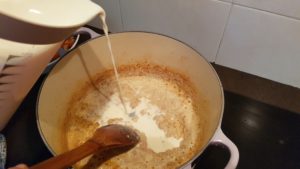 Bring the mixture to a boil and simmer until thickened, for 2 to 3 minutes.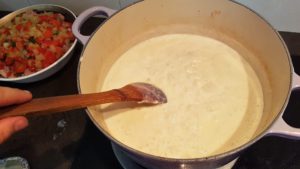 Turn the heat off, add 2/3 of the cheese, and stir until melted.  Season to taste with salt and pepper.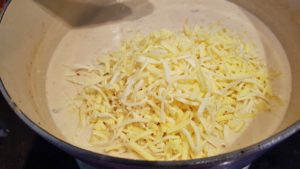 Add the pasta and reserved sausage and onion mixture.  Stir until evenly mixed.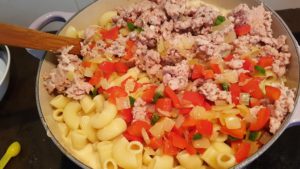 Pour into a buttered casserole dish or cast iron pan.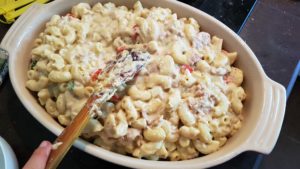 In a medium bowl, whisk the eggs together and then stir in the remaining cheese plus the crumbled biscuits.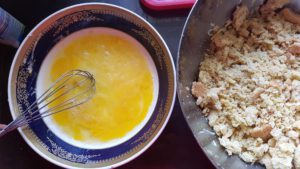 Pour this mixture on top of the mac and cheese.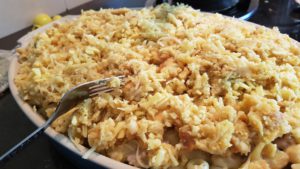 Place in oven for 25 to 30 minutes and bake until the top is golden.