It's almost the end of Ramadan, and I was hoping to cook a few more dishes before I'm no longer allowed to leave work an hour earlier.  I found a YouTube channel called Saudi Food Eman, and I really liked her videos.  This lamb makhtoom looked simple enough to make, and I happened to have some lamb stashed in the freezer from my trip to the market last weekend.
The original recipe called for lamb ribs, but premium lamb French cutlets cost and arm an a leg at B.I.G. (RM200/kg! Ohmigosh!), and the ribs I saw at the market were just too skinny with barely any meat.  With ribs this dish would only need 10 minutes in the pressure cooker, but since I used lamb shoulder chunks, I had to adjust the cooking time accordingly.
Another first was using Arabic gum.  In Eman's video she called it "mystic gum," but after Googling around I discovered that the word she meant was mastic gum, also known as Arabic gum or Yemen gum.  It is apparently *not* the same as gum Arabic (like, seriously), which is also known as Acacia gum.  I didn't know this at the time, and I ended up getting both the Arabic and acacia gum.  I used the acacia gum when I made this dish, actually.  Will need to make this again with the Arabic gum proper, to see if there's any difference in taste.
I loved this dish. The flavor of the tomatoes were nicely infused into the meat, and the cinnamon gave it a lovely sweet aroma.  The tomatoes I had on hand were really small and I had to adjust to what I think the amount should be, but in the end I think there wasn't enough liquid and the dish turned out a little salty (I still could eat a lot of it though).  Need to make this again to get it right.
Lamb Makhtoom
Ingredients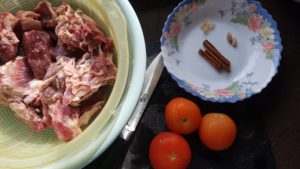 2 tablespoons olive oil
2 whole cardamom pods (buah pelaga)
3 sticks cinnamon
2 small pieces Arabic gum
1 kilogram bone-in lamb shoulder chunks
3 tomatoes, roughly chopped
2 tablespoons plain yoghurt
2 teaspoons salt
1 teaspoon freshly ground black pepper
2 tablespoons tomato paste
Directions
In a large pot over medium-high heat, heat the oil.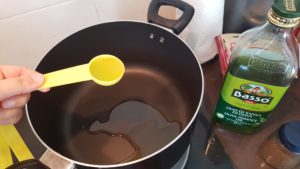 Add the cardamom pods, cinnamon sticks, Arabic gum, and the lamb.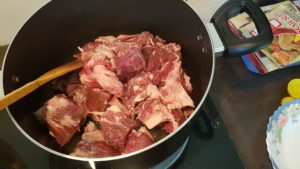 Cook, stirring, until the lamb is browned on all sides.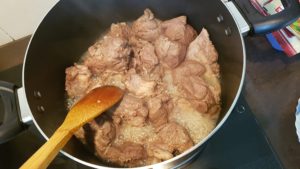 In a blender, blitz the tomatoes with the yoghurt until nicely pureed.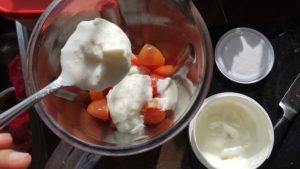 Add the tomato mixture to the pot.
Add the salt, ground black pepper, and tomato paste.  Stir to evenly combine.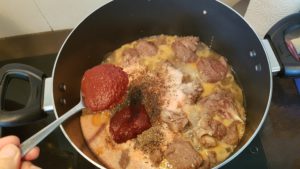 Bring to a boil, then transfer to your pressure cooker pot.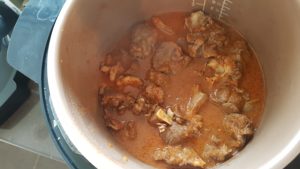 Cover and cook, using the Beef/Mutton setting, 1 hour (59 minutes).  The meat should be fork tender when done.  Serve with rice.