It was another one of those weekends when the freezer was full of stuff and Kak'mbang sent out her SOS.  I needed to help her clear at least one whole chicken, so I decided to try this recipe by Saudi Food Eman.  I found it interesting how good she claims the dish to be despite using so few ingredients, so I decided to give this a go.
This took me a few tries to get right.  The chicken Eman uses is way smaller than the mutant birdies we have here, which required me to do a lot of guesswork for the cooking time. I also had to adjust the water and salt quantities before finally getting the perfect taste and texture for the rice.  Rudy got me this amazing ThermoPro TP-20 food thermometer which alerts me as soon as the breast meat hits the optimal temperature, so I no longer had to guess how long I needed to leave the chicken in the oven.  If you don't have a thermometer, be sure to weigh your chicken and use a roast timer to estimate your cooking time.  Because the chicken is butterflied and we're cooking at very high temperature, you can check for doneness at the halfway point.
Overall, a great dish which is super easy to make.  Give it a try!
Eman's Oven-baked Chicken and Rice
Ingredients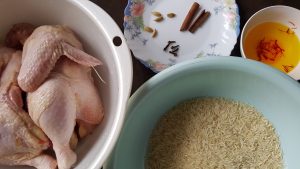 1 pinch saffron
2 tablespoons unsalted butter
5 cardamom pods
5 cloves
1 cinnamon stick
2 cups long-grain basmathi rice, rinsed and drained
2 teaspoons salt, plus more for seasoning chicken
1 whole chicken (about 1kg), cut into 2 halves
1 teaspoon ground turmeric
Directions
Preheat the oven to 260 degrees C, or its maximum setting (mine was 240 degrees C).
In a small bowl, soak the saffron threads in about 2 to 3 tablespoons hot water.  Set aside and let sit for about 20 minutes.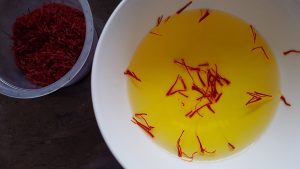 In a large pot over medium high heat, melt 1 tablespoon butter.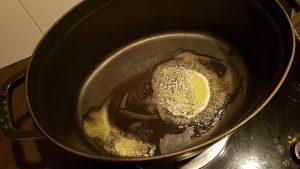 Add the cardamom, cloves and cinnamon and cook, stirring, until the spices become fragrant, 2 to 3 minutes.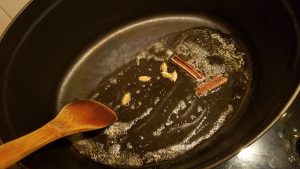 Add the rice.  Stir gently until combined.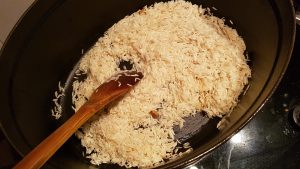 Add the salt.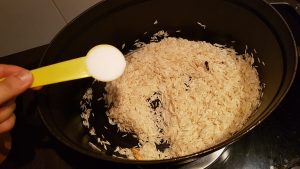 Add enough water to just barely cover the rice, about 2 cups.  Cook for about 8 minutes.  Remove from heat.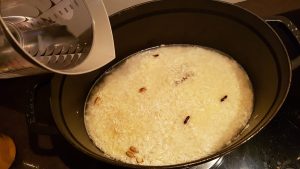 Melt the remaining tablespoon of butter.   Add 1 teaspoon of salt and the turmeric and stir to combine.  Brush the mixture evenly all over the chicken.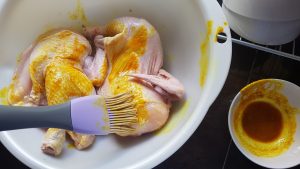 Drizzle with a few tablespoons of the saffron liquid.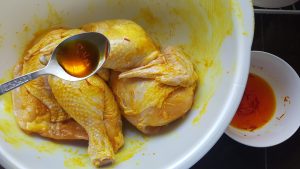 Transfer the half-cooked rice into a large pyrex pot.  Spread it out into an even layer.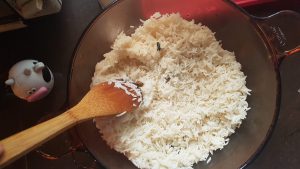 Add a bit more water, about 2 cups.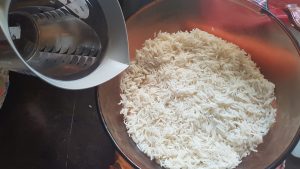 Place the chicken on top.  Pour the remaining saffron water over the chicken and rice.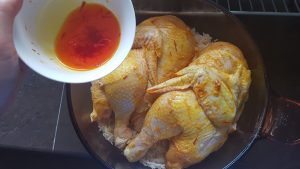 Sprinkle with a bit more salt.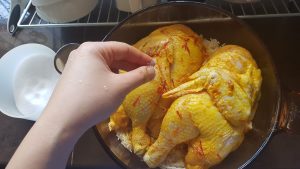 Cover the pot, and transfer to the oven, arranging the pot such that the chicken goes straight in, legs first.  After about 20 minutes, lower the heat to 220 degrees and continue cooking for another 30 to 45 minutes, or until an instant-read thermometer registers 65 degrees C when inserted into the thickest part of the breast.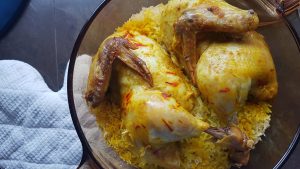 Let rest for about 10 minutes.  Cut the chicken into pieces and serve with a side of Arabic salsa or achar.