Since turkey is conventionally served with stuffing… well, here we are.  I don't really know what "good" stuffing is supposed to taste like, or what the texture is supposed to be, but I'm told it is supposed to have a pudding-like texture.  This recipe definitely had a soft texture, very much like a savoury bread pudding, and taste-wise it is quite decent, but Rudy still doesn't care for it so maybe my search for the perfect stuffing recipe continues.  My conclusion for this recipe: the taste of your sausages will greatly determine how your dish will taste, so pick a sausage you really like!
I made this a day ahead; after transferring the stuffing to the baking dish, I let it cool before wrapping it with aluminium foil and sticking it in the fridge.  I let it sit at room temperature for over an hour, before finishing it in the oven.
Based on the recipe by SeriousEats.
Classic Sausage Stuffing
Ingredients
2 (600-gram) loaves white sandwich bread, cut into 2-cm/ 3/4-inch dice
8 tablespoons (about half a block) unsalted butter
700 grams Italian or herb sausage, removed from casing
1 large onion, finely chopped (about 2 cups)
4 large stalks celery, finely chopped (about 2 cups)
2 cloves garlic, minced
2 teaspoons dried marjoram leaves
2 chicken stock cubes, diluted in 1 liter hot water
3 eggs
1/4 cup minced celery leaves (daun sup)
Directions
Adjust oven racks to lower middle and upper middle position.  Preheat oven to 140 degrees C (120 degrees C fan).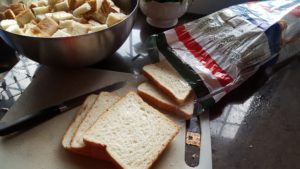 Spread the bread evenly over two rimmed baking trays.  Place the trays on the oven racks and bake until completely dried, about 50 minutes total, swapping the trays and stirring the bread cubes several times during baking.  Remove the from oven and let cool.
Increase oven heat to 180 degrees C (160 degrees C fan).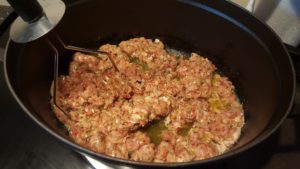 In a large Dutch oven over medium high heat, melt the butter until foaming subsides, being careful to not let the butter brown, about 2 minutes.  Add the sausage and, using a potato masher, break the sausage into fine pieces.  Cook, stirring frequently until only a few bits of pink remain, about 8 minutes.  Add the onions, celery, garlic and sage and cook, stirring frequently, until vegetables are softened, about 10 minutes.  Remove from heat and add half of the chicken stock.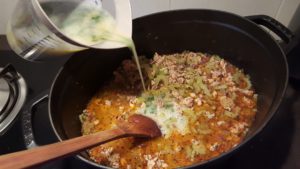 Whisk the remaining chicken stock, eggs, and 3 tablespoons celery leaves in a medium bowl until combined.  Stirring constantly with a wooden spoon, slowly pour the egg mixture into the sausage mixture.  Add the bread cubes and fold gently until evenly mixed.
Transfer the mixture to a buttered 9″ x 13″ rectangular baking dish.  Cover tightly with aluminium foil, and bake until an instant-read thermometer reads 65 degrees C when inserted into the center of the dish, about 50 minutes.  Remove the foil and continue baking until golden brown and crisp on top, about 15 minutes longer.  Remove from oven, let cool for 5 minutes, sprinkle with remaining celery leaves and serve.