When putting together the menu for this year's GobbleFest, I asked the Round Knights for suggestions and Azuan pointed out that we were missing a bakery item.  Serious Eats had already put together an amazing classic Thanksgiving menu, and this cornbread recipe was on the list, so I decided to try it out.
I've tried other cornbread recipes, and while some were okay, Rudy liked none of them – too grainy, too dry, etc.  That was until he tried this one; moist and soft and buttery with yummy salty bits, this is definitely my new go-to cornbread recipe from now on.
Moist and Tender Brown Butter Cornbread
Ingredients
7 tablespoons (100 grams) unsalted butter, plus more for serving
1 cup fine yellow cornmeal
1 cup all-purpose flour
4 tablespoons sugar
1 teaspoon coarse salt
2 teaspoons baking powder
1/4 teaspoon bicarbonate soda
2 eggs
200 grams (about 3/4 cup) sour cream
1/2 cup full cream milk
1 1/2 teaspoons Lazy Lemon juice/ vinegar
In a measuring jug, make the buttermilk substitute.  Add the lemon juice, and fill with enough full cream milk to reach the 1/2 cup mark.  Let stand for 5 to 10 minutes.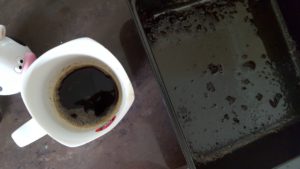 Adjust oven rack to center position, and preheat oven to 220 degrees C (200 degrees C fan).
Place butter in a 9″ x 9″ baking tin.  Transfer the baking tin to the oven and heat until the butter is melted and well browned, 15 minutes.  Pour the browned butter into a heatproof cup or bowl, leaving about 1 tablespoon remaining in the baking tin.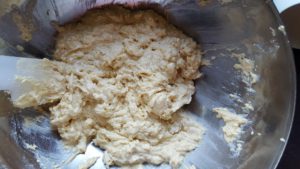 Combine the cornmeal, flour, sugar, salt, baking powder, and bicarbonate soda in a large bowl.  Combine the eggs, sour cream, and buttermilk substitute in a second bowl and whisk until thoroughly combined.  Whisking constantly, slowly drizzle in the reserved browned butter. Whisk wet ingredients into dry ingredients until just combined and no dry spots are visible, being careful not to over-mix.
Remove the baking tin from the oven and swirl to coat all surfaces with melted butter.  Spoon the batter into the baking tin, smooth the top lightly, then transfer to the oven.  Bake until light golden brown on top, and a toothpick inserted into the cornbread comes out clean, 20 minutes.  Let cool 10 minutes, then cut into squares and serve.
Leftover cornbread can be stored in a sealed container in the refrigerator for up to 3 days.