One must have soup as a starter for any dinner party (well, mine at least), and this recipe by SeriousEats caught my eye.  Not only were we able to fulfil our veg quota for the night (together with the stuffing), the garnishing that came with this hearty soup was also great for kicking up our mashed potatoes.  And yes, this was absolutely delicious and was the first dish to run out.  I served this with home-made white bread.
One thing to note is, unlike conventional bacon which apparently renders tons of fat when cooked, beef bacon (or breakfast beef, oh ye sensitive ones) is too lean and renders virtually nothing if cooked without adding any fat.  So I added a generous amount of olive oil in hopes it will absorb enough flavour from the bacon to give the soup its smoky taste.
Creamy Cauliflower and Beef Bacon Soup
Ingredients
1/4 cup olive oil
250 grams sliced beef bacon, cut into 1/2-inch pieces
1 medium onion, finely chopped 
6 green onions (daun bawang), white and pale green parts only, thinly sliced
4 medium cloves garlic, thinly sliced
2 chicken stock cubes, diluted in 1 liter hot water
2 bay leaves
200 ml (about 1 cup) whipping cream
1 head cauliflower, cut into florets
1/2 teaspoon freshly ground black pepper
Direction
In a Dutch oven over medium-high heat, heat the olive oil.  Add the breakfast beef and cook, stirring constantly, until completely crisp.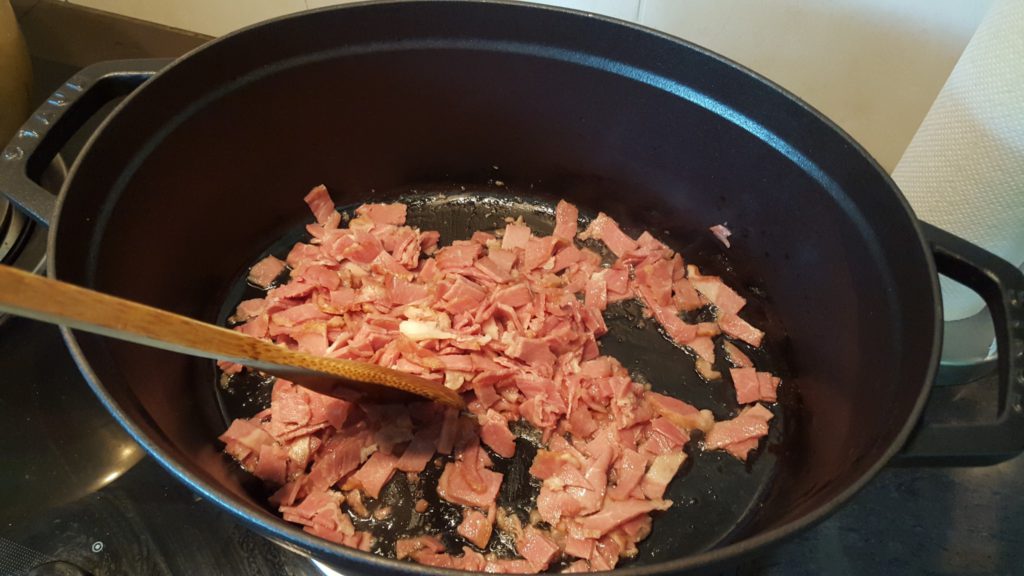 Remove from the Dutch oven with a slotted spoon and set aside, leaving the fat in the Dutch oven.
Add the onions, half of the green onions and garlic, and cook, stirring constantly and scraping up browned bits from the bottom of the pan until onions are soft, about 5 minutes.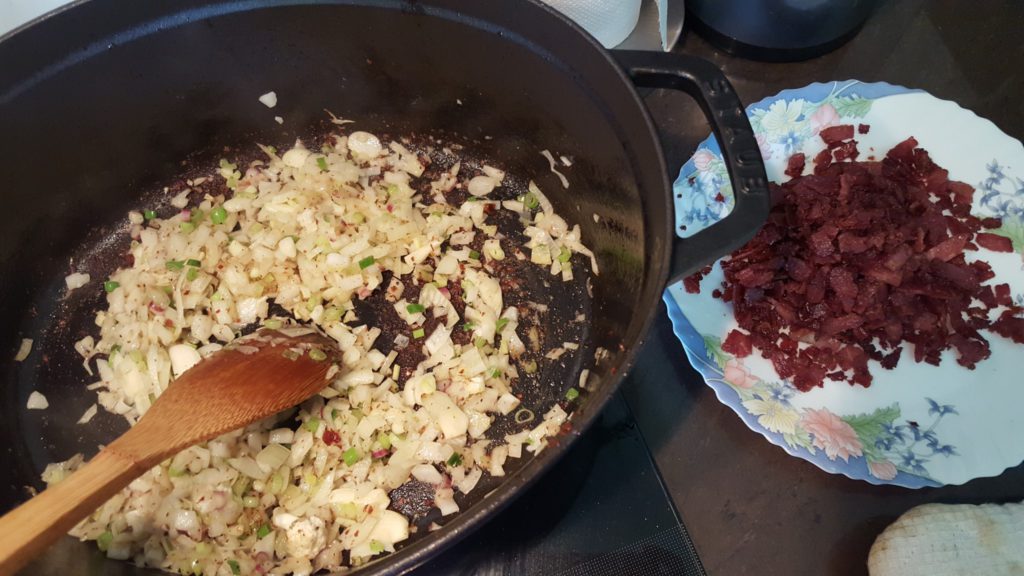 Add the chicken stock, bay leaves, whipping cream and cauliflower.  Season to taste with pepper. Cover and cook until cauliflower is completely tender, about 30 minutes.
Using a stick blender, puree the soup until completely smooth.  You can also use a conventional blender, working in batches.  If an extra-smooth soup is desired, pass the soup through a fine mesh strainer after blending.  If the soup is too thick, whisk in additional hot chicken stock, 1/2 cup at a time, until you've reached the desired consistency.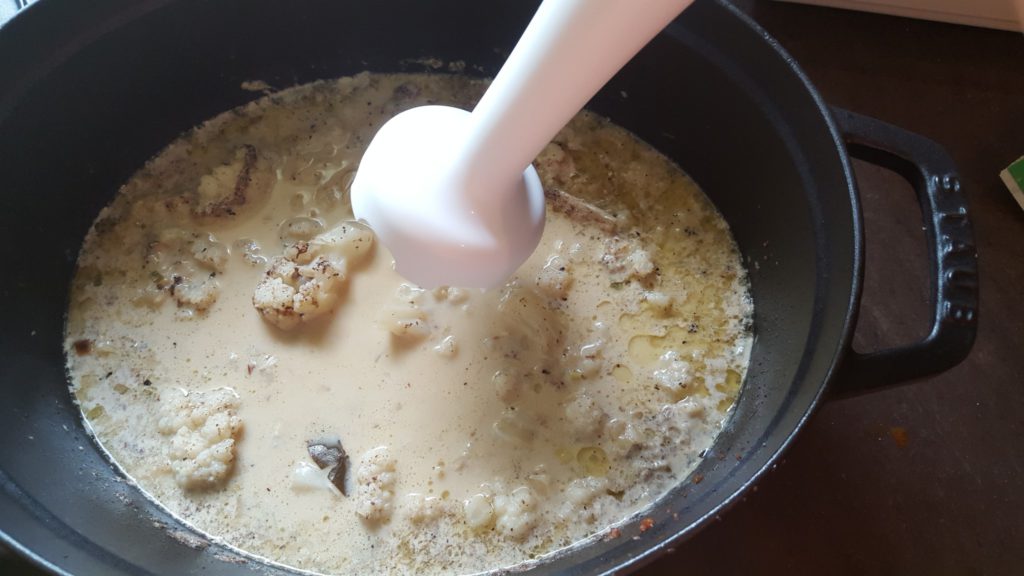 Season to taste with salt and pepper, and serve sprinkled with crisp beef bacon pieces and remaining green onions.